Discover more from Sustainable Returns
I share thoughts on investing, sustainability, and mental frameworks.
Electrified - Issue 39
Who will keep the lights on?
Hi friends,
Welcome to the weekend. Today's essay is inspired by a Wall Street Journal article on the impending workforce shortage in oil and gas.
While it comes from a different place, the power (or utility, I use them interchangeably) sector has an employee shortage looming too.
Let's take dive in.
👉 Did your brilliant friend send Electrified to you? Join our community here.
---
When I tell people electricity is a family business, I mean it. My grandpa spent 30+ years climbing poles in rural Texas, and he hired my dad who is still in the business after 40 years - first as a lineman and now as a COO. My first high school job was sweeping the warehouse and tackling odd jobs in the summer heat - almost two decades later I'm still working in the industry I love.
Being the son and a grandson of linemen, I know the physical toll that it takes. I've seen the hip replacements, the bad backs, and the sleepless nights that come from working in the aftermath of a thunderstorm.
If you take these two anecdotes together, you can see the impending blue-collar labor shortage looming in the energy sector. Years of experience are about to walk out the door, and the next generation has little desire to enter through it.
Utilities, like oil and gas, face the pending retirement of 1/3 of the workforce by 2025. Some believe the real number could be as high as 60% by 2030.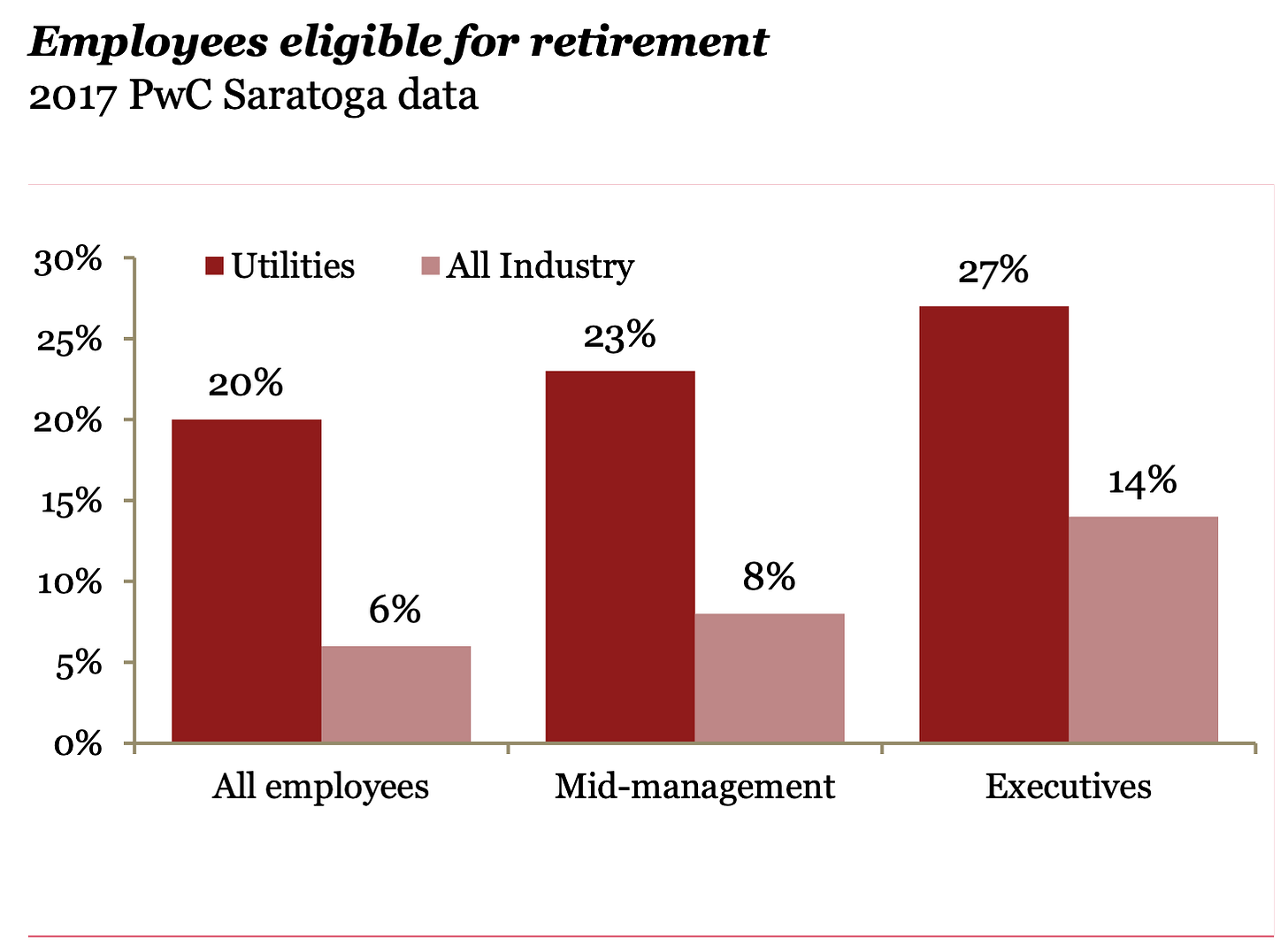 At the same time, the demands of the field are evolving. By 2030, the smart-grid will create 125K jobs - up from 20K in 2020. These jobs may be different, BUT they rely on institutional knowledge from workers who have spent their entire life in the industry to get up-to-speed.  
Unlike the modern software businesses of today, utilities and energy companies didn't keep "wikis" in Jira or a company intranet. Like oil and gas, utilities face the real possibility of paying retirees to return as contractors - likely at higher rates.
Additionally, there's no guarantee the pipeline of potential employees comes to fruition. 
Utilities have a branding problem with the generations who will potentially fill these jobs. According to a recent PWC report, they are viewed as stale, dirty, and low-paying. 
Of course, these are problems that can be solved. The solar and wind industries are two of the fastest-growing in the US - both are cutting-edge and contribute to the global good.
The benefits of a career in the power sector don't align with the wants of millennials and Gen-Z. This group places a higher priority on work-life balance, is driven by positive impact, and expects to have multiple jobs during their career.
The generation of my grandpa and dad went into the sector because it was stable and offered great long-term benefits like pension plans - both of which matter less to younger generations.
This evolution of workforce demographics will place stress on the utility sector, and "when big markets change, technology firms can rewrite existing economic pathways".
The first, and most obvious, opportunity will be for software focused on connecting the workforce and enabling knowledge management. There is no dominant platform in the way that Slack, Zoom, Atlassian, etc... dominate the tech sector.
But, the bigger opportunity lies with startups as a whole. While knowledge workers may not view utilities as aligned with their beliefs, they do see these qualities in mission-driven startups. 
These startups have a unique opportunity to create massive wealth while creating outsized positive impact - a combination that is already beginning to attract top-tier talent.
The evidence is clear, utilities will need an influx of talent at all levels or must do more with less. Regardless of which path they take, startups in the sector have an opportunity to play an outsized role in helping them through "the great crew change".
---
👉 If you enjoy reading Electrified, please share it with friends!
---
Links:
— Multi-gigawatt solar surge could turn Texas' energy market 'upside down
— Oil Companies Wonder If It's Worth Looking for Oil Anymore
— California Reveals That the Transition to Renewable Energy Isn't So Simple
---
Go deeper:
1.
"When you get all this new solar into the market, somebody's going to get pushed out," added Dennis Wamsted, an analyst at IEEFA. "And I think you can make a pretty good argument that it's going to be the coal generators."
— Multi-gigawatt solar surge could turn Texas' energy market 'upside down
2.
"There will be stranded assets," said Muqsit Ashraf, senior managing director responsible for the global energy industry at Accenture Plc. "Companies are going to have to accept the fact."
"Many assets are already stranded from an oil-price cycle perspective," said Christyan Malek, head of EMEA oil and gas research at JPMorgan Chase & Co. "But when you then add the carbon curve, that takes a bigger chunk out."
— Oil Companies Wonder If It's Worth Looking for Oil Anymore

3.
But California's experience also underscores a growing consensus among energy scholars: that variable renewable energy technologies are unlikely to meet the grid's power demand by themselves. They will play an important role, but more firm generating sources, like next-generation nuclear reactors, natural gas plants with carbon capture technologies, enhanced geothermal, and others that can balance out variable renewables, will be required.
— California Reveals That the Transition to Renewable Energy Isn't So Simple
---
What I'm thinking about
If you want others to follow, learn to be alone with your thoughts. - William Deresiewicz
---
See you next weekend,
Kevin