Discover more from Sustainable Returns
I share thoughts on investing, sustainability, and mental frameworks.
Electrified - Issue 47
It's the jobs, stupid.
Hi friends,
Democratic strategist James Carville was born on this date in 1944 and today we're paraphrasing him for our long-read. It's the jobs, stupid.
Let's get to it.
---
We all have those relatives. The ones we see only at weddings and the occasional reunion. For me, one of those relatives is a 15-year veteran of the wind industry as a turbine technician.
The median salary for a wind turbine tech is ~$53,000 annually, the median salary in West, Texas is ~$35,000. I'm no mathematician, but a 51% increase over the median wage seems meaningful. Not to mention the stability that a similar oil and gas job can't provide.
But, the wage increases don't tell the full story. This family member has 2 school-aged children. He'll be the first to tell you the increased revenue from wage and population growth dramatically improved the school district and his children's education.
This is the narrative we should be pushing as we navigate the energy transition and climate change. Americans care when the consequences, negative or positive, are tangible and personal.
Texas has more wind farms than any other state in the country and over 100 Texas school districts benefit. The state has an incentive that allows developers to keep property taxes low and in exchange, the developer contributes an agreed-upon amount to the local school district.
According to Moody's, these agreements have been used for over 140 wind farm projects and spurred more than $23 billion of investment. In one district (Webb Consolidated), the payments account for 40% of the district's revenue requirements.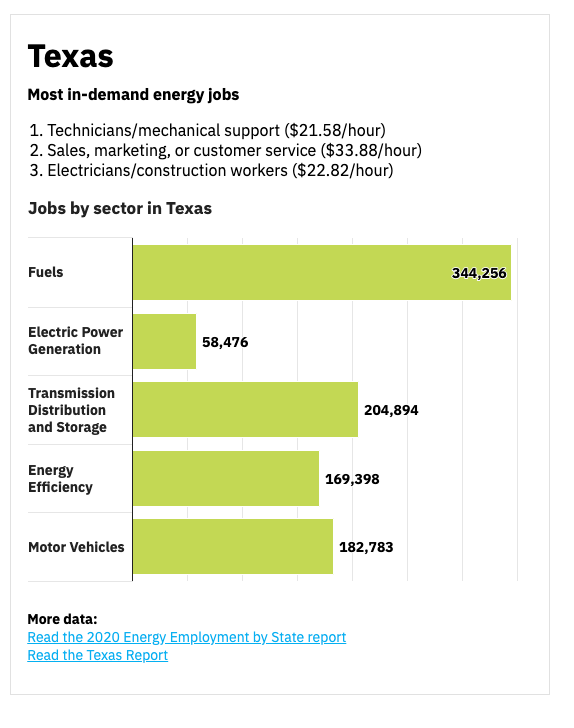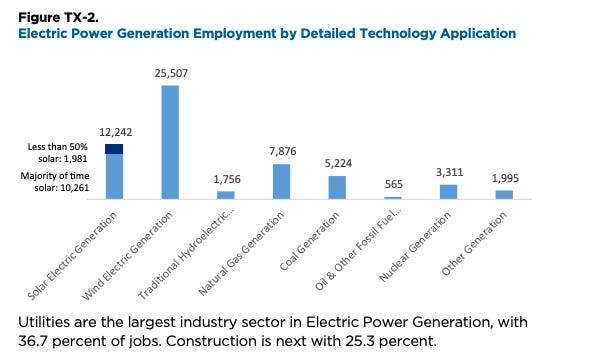 Texas isn't the only state where jobs tied to the energy transition are among the fastest-growing. In Pennsylvania, energy efficiency is bigger than the fuels industry, and when combined with power generation and transmission, the numbers aren't even close.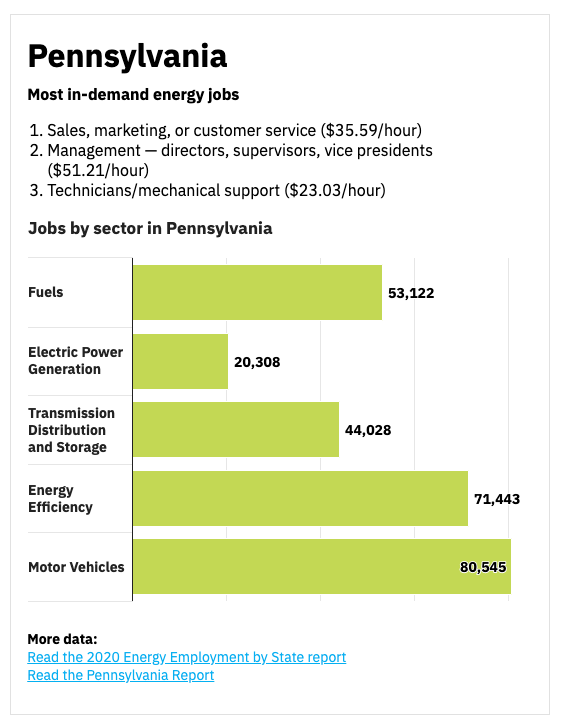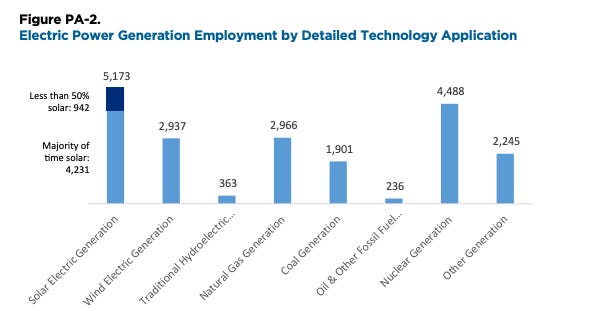 In case you missed it in the second chart, solar and wind jobs are more than 3x the numbers tied to natural gas when it comes to power generation alone.
It's also worth noting that all of the categories tied to renewables are outpacing fossil fuels in growth by ~33%.
The Clean Energy Employment Report for Pennsylvania says jobs in the sector grew by 8.7 percent, or almost 7,800 jobs, between 2017 and 2019. The statewide average job growth was just 1.9 percent during the same time period.
Growth. Personal. Tangible. Those three words should be required when we talk about climate change and the energy transition.
---
Links
1.
Aside from the SunEdison debacle, there are other reasons why public markets haven't been as appealing for the industry. One is that there is no shortage of private capital—especially pension fund money—chasing relatively low-yielding renewable energy investments. Many have increased their allocation for alternative investments in recent years. Public markets, meanwhile, tend to favor rapid growth stories or splashy scale—not features of existing renewable developers or operators.
👉  SPACs Will Have a Tough Time Cleaning Up on Renewables
2.
While it's great that more capital, and more innovative forms of capital, are likely to be available for venture-backed sustainability startups in 2021, let's hope their venture investors realize early on how important it will be for the companies to bring on board such specialized expertise.
👉  Will The Lies Of Clean Energy Investors In 2009 Trip Them Up Again In 2021?

3.
Although many cities announced their own Green New Deals over the past year, Covid-19 may slow the already-lagging green transition. With the global economy heading for the worst recession since the Second World War, some municipal programs aimed at climate action have been or will be, postponed or cut.
👉  Cities now have less money to drive the green transition
---
Recent Investment Activity
SunRoof, a Swedish solar roof developer, raised €2 million in seed funding led by SMOK Ventures.
Kettle, a San Francisco-based reinsurance startup focused on climate change risk, raised $4.7 million in seed funding. True Ventures led, and was joined by Acrew Capital, Homebrew Ventures, Anthemis, and Inspired Capital.
Heila Technologies, Inc. (Heila) announced today that it has raised $2.5 million in seed funding for its Heila EDGE® platform, an end-to-end solution to integrate, operate and optimize groups of distributed energy resources (DER). Table Rock Infrastructure Partners, an equity firm focused on helping municipalities with critical infrastructure projects, is the lead investor.
Budderfly, a Shelton, Conn.-based energy efficiency-as-a-service, raised $7.8 million. Edison Partners and Balance Point Capital co-led and were joined by Connecticut Innovations.
💰Any deals we missed or you would like us to share? Submit them here.
---
What I'm thinking about
The games you choose to play in life are just as important as your role and the skill set you bring to them.
---
See you next weekend,
Kevin