Discover more from Sustainable Returns
I share thoughts on investing, sustainability, and mental frameworks.
The Holy Grail of Energy Markets
Note: this post originally appeared on my blog.
A fully connected, transactive, transparent market. This concept has long been the holy grail for those of us interested in what a modern grid could look like.
Last week, FERC announced Order 2222 which requires RTOs and ISOs to allow distributed energy resources to participate fully in wholesale energy markets.
While the impacts of this order won't be felt for a long-time, it's still exciting to speculate on the possibilities.
Before we do that, let's take a high-level look at the order itself.
The order becomes official in 60 days, and RTOs / ISOs have 270 days to publish their proposals. There is no timeline for compliance in the order so it will be at least a year before we see actual plans and maybe more before they are implemented.

RTOs will be permitted to set a minimum size for market participation, the that minimum can not be higher than 100kW. For reference, the average solar install is 3-8 kW.

Distributed resources can apply for more than one type of participation model.

Utilities still review interconnection and smaller utilities can opt-out altogether.
There is more to the order than these four points, specifically around the issues RTOs/ISOs must address in their proposals. For our purposes, I've limited my high-level to the items most likely to impact all of us immediately.
So, if we know the potential of a future fully-connected grid, where are we now and how do we get there?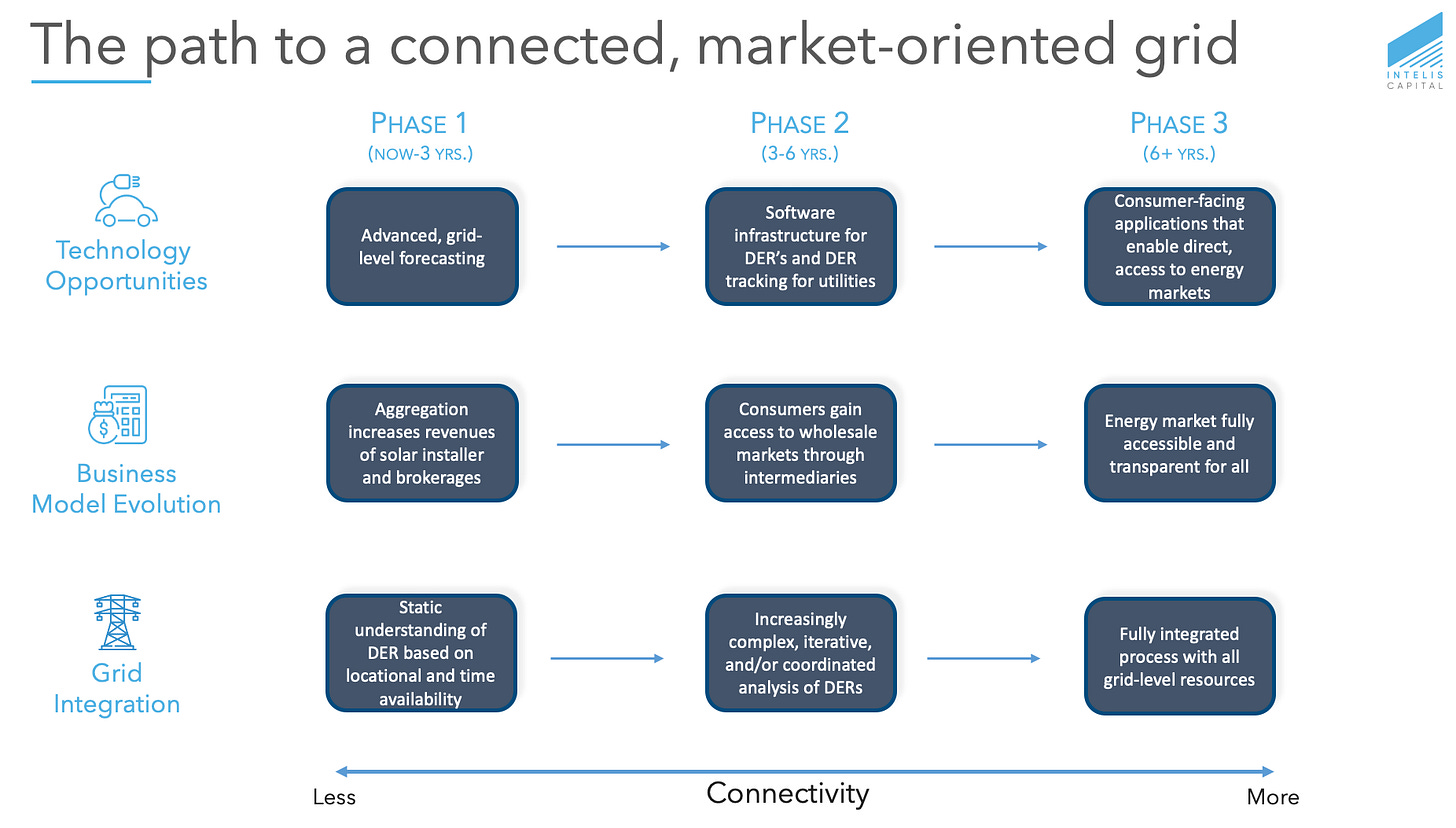 Definition: All technologies in this phase are available today, but not yet fully deployed or understood. Grid participants know the future looks increasingly different.
Technology Opportunity
Advanced, grid-level forecasting is made possible by advanced metering infrastructure (AMI) and data-science applied to the variables which drive power demand. Intelis Capital portfolio company Amperon is a great example of applying modern technology to this problem.
Business Models
Aggregation is already a well-established practice and business model amongst energy brokers. FERC 2222 lowers the bar for residential participation in these programs. We'll see solar installers enter this market en masse and provide a new incentive to customers - lowering the payback period of residential solar installs.
Level of Grid Integration
RTOs and ISOs currently have some understanding of DERs including their location and availability. However, this is only for large DERs which are much easier to track than the average residential solar install or EV purchase.
Phase 2 (~3-6 years)
Definition: Most of the technologies exist, but deployment levels are really low. Grid operators begin to feel the pain of managing an increasingly complex wholesale market and grid.
Technology Opportunity
The next step in technology for a grid with increasing DER penetration is likely to center around infrastructure. Utilities, RTOs, and ISOs will need granular data relating to DER and transactions will need to happen seamlessly. Companies that are built in the same style as Stripe and Twilio are likely to have the most success.
Business Models
Consumers gain access to the wholesale markets en masse, but mostly through intermediaries like aggregators and retail energy providers. The majority of consumers still don't participate in energy markets directly even with EVs, storage, and solar increasing in share.
Level of Grid Integration
Grid operators begin to look to software for automatic resource planning that becomes highly complex and iterative. The 3-year forward auctions of capacity markets become even less appealing as it's impossible to predict future available resources. Real-time structures re-enter the conversation after stagnating in the last few years.
Phase 3 (7+ years)
Definition: Few of these technologies exist, and most are poor or built for the early adopters. Grid operators are looking to get to a real-time market that requires little input from them outside of the market rules.
Technology Opportunity
Finally, consumer-facing applications enter the market. I've long been the skeptic in the room in regards to B2C energy. But, an open market creates potential opportunities. These new apps must still be easy-to-use and transparent or automated.
Business Models
New business models emerge due to the transparency of energy markets and the abundance of power supply. It's too early to predict what these may eventually look like.
Level of Grid Integration
The active real-time markets return after stagnating post-natural gas price deflation. This time, they take the shape of high-speed, low margin trading. This trading needs to be done with software and algorithmically.
For an industry with the reputation of being slow, regulation is actually ahead of the curve on this one. We don't yet have a penetration of technologies like solar, storage, and EV's that make this order an unlock for the mass-market.
However, that doesn't mean we can't have fun speculating on the new possibilities that are coming our way as a result of a connected grid where every resource can be a full market participant.
If you're an entrepreneur for any of the use cases I mentioned above, I'd love to meet you.  Email me at kevin.stevens@inteliscapital.com or find me on Twitter @kevindstevens